A club like no other! With various levels of membership, we have something for every taste and budget. Listed price includes all associated shipping and handling costs.
---
Do You Love Noisy Water Wine?
Become a Wine Club Member Today!
We value our club members and seek to make each visit a memorable one!
Membership includes:
• Each quarterly shipment, members receive six bottles that have been carefully selected by our winemakers. We often include some suprise gifts as well!
• Exclusive invitations to our new wine releases and release party tastings.
• 10% discount on any wine purchases made outside of scheduled shipments.
• 20% discount on any wine purchase of (6) or more bottles made outside of scheduled shipments.
• One DAILY tasting from our daily wine menu each visit.
• Discounted admission to events held at our venues. For a list of upcoming events, check out our Events Calendar.
• Opportunities to sample and purchase wines, cheeses and other products not readily available to the public.
---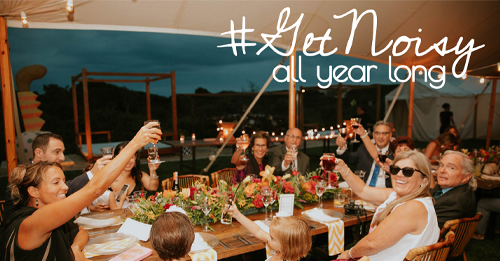 Our club members #GetNoisy all year long!
Shipments are made February, May, August, and November.
For timely shipments, credit cards will be charged the first week of each month prior to the wine club being shipped out. A minimum of thirty days is required for cancellation of membership.
Want to learn more?
Please contact us for additional information or shipping availability in your state:
Phone: (575) 336-7012
Email: lauren@noisywaterwinery.com
---